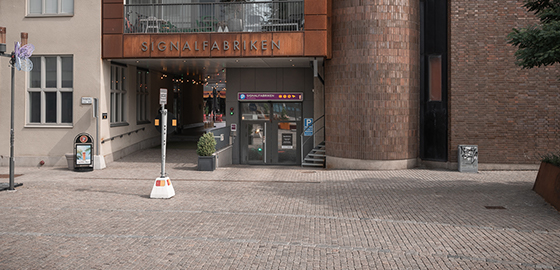 Signalfabriken
Vasagatan 2, Sundbyberg, Sweden
Opening hours:

05:00-22:30
Short Term: 20 kr per started hour. 140 kr per day.
Long term: Unreserved parking space: 1,836 kr including VAT per month.
Long term: Reserved parking space with the possibility to charge: 2,496 kr including VAT per month. Variable cost for electricity will be added
Long term: Motorcycle space: 833 kr including VAT per month.
---
Service
2,1m
78 parking spaces
3 charging stations
---
Payment system
---
Betalningsinformation:
Use your debit card or take a ticket at the barrier.
If you drove in with your ticket, you use the same ticket when you drive out and then you pay with a debit card at the barrier.
If you have driven in with your debit card, just use the same debit card at the barrier when you leave.
Should any problem arise, there is always a help button close at hand. Both when you are going to enter the garage, and when you are driving in. At doors, the gate and the barriers. You can always use this button, we are open 24 hours a day.
General information:
Signalfabriken offers several restaurants and pubs on Sundbybergs torg. There is also a large SATS of 3,000 square meters.
The garage has good communication on to Stockholm. For those who do not want to drive into Stockholm, you can walk from the garage to Sundbybergs Centrum station. It is only 200 meters. There you can take the blue line that takes you on to Stockholm Central Station or Kungsträdgården. If you go in other directions, you can go all the way out to Hjulsta.
You can also choose to take the commuter train to Stockholm Odenplan, Stockholm City or Stockholm South. As far south as you can get to Nynäshamn or Södertälje without a single change.
If you go in the other direction, you can go all the way to Bålsta.