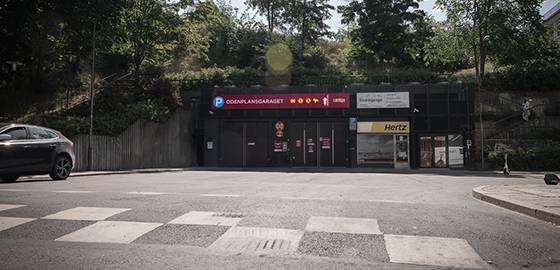 Odenplansgaraget
Gyldéngatan 8, Stockholm, Sweden
Opening hours:

05:00-23:00
Short Term: 55 kr per strated half hour. 550 kr per day
Long term: Reserved parking space: 3.633 kr including VAT per month.
Long term: Unreserved parking space: 3.098 kr including VAT per month.
Long term: Residential parking weekdays 16-09 + weekend: 1100 kr including VAT per month.
---
Service
2,1m
306 parking spaces
0 charging stations
Car wash
---
Payment system
---
Payment information:
Use your debit card or take out a ticket at the barrier. Customers to the blood center and car wash receive an exit ticket from them. Any balance you pay at the barrier when you leave.
If you have driven in with your debit card, just use the same debit card at the barrier when you leave.
General information:
At Odenplan just in front of Obsevatorielunden, you can both rent and park for a short time in our garage Odenplansgaraget.
It is a colorful and bright garage. The garage is camera-monitored to some extent, which means that you can feel safe. There are cameras at the entrance and exit as well as each entrance and exit.
The garage also has a car wash, so while you do your errands in Vasastan you have the opportunity to get back to a freshly washed car.. Read more about the car wash here.
With walking distance to Sveavägen, Stadsbibloteket and Vasaparken, you have the opportunity to both enjoy one of Stockholm's most visited parks or sit down and read one of the library's 400,000 books.
If you want to experience Stockholm, Odenplan is a good starting point with all its connections commuter trains, metro and several buses that go from here.
When you rent a parking space, you get a keycard that allows you to access your car around the clock..