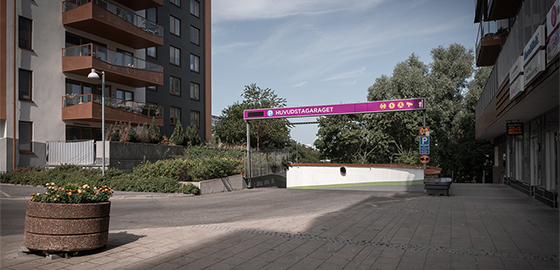 Huvudsta Centrum
Storgatan 70, Storgatan, 171 52 Solna, Sweden
Opening hours:

07:00-22:00
Short Term: Garage: 25 kr per started half an hour. Maximum fee 250 kr per day.
Short Term: Outdoor: 2 hours of free parking thereafter it costs 30 kr per hour between 09.00-19.00. Between 19.00-09.00 it costs 10 kr per hour. Maximum 50 kr for a whole night.
Long term: Residential parking weekdays 19-09 + weekend: 1,009 kr including VAT per month
Long term: 24-hour parking: 2,096 kr including VAT per month
Long term: Motorcycle parking: 796 kr including VAT per month
---
Service
2,1m
230 parking spaces
0 charging stations
App code outdoor: 17531
---
Payment system
Barriers (garage)
Ticket machine (outdoor)
App parking outdoor
---
Use your debit card at or take a ticket at the barrier.
If you drove in with your ticket, you use the same ticket when you drive out and then you pay with a debit card at the barrier.
If you have driven in with your debit card, just use the same debit card at the barrier when you leave.
Should there be a problem, there is always a help button. Both when you go into the garage, and when you drive into the garage. You can always use this button, we are open 24 hours a day.
If you park outdoors, you can choose to pay for your parking with the App, either Parkamo or Parkster or EasyPark. It is a good solution that means that you only have to pay for the time you park and can easily extend the parking if your visit takes longer than expected.
General information:
In Huvudsta Centrum you can both have a good meal at one of their restaurants. Or make yourself nice either at a hair salon or beauty salons.