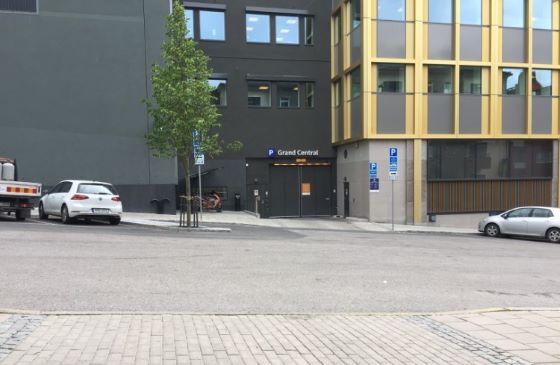 Grand Central
Rosengatan 4, 172 70 Sundbyberg, Sweden
Opening hours:

06:00-21:00
Short Term: 13 kr per half hour. 220 kr per day
---
Service
2,1m
200 parking spaces
42 charging stations
5 parking spaces for the disabled
5 motorcycle places
---
Payment system
---
Payment information:
With Autopay, you park smoothly and easily with a camera-based parking system. At the entrance and exit, there are cameras that read your registration number and thus keep track of how long you have been parked.
No ticket is needed and you do not risk receiving any inspection fees. Read more about Autopay and how to pay here.
General information:
In central Sundbyberg, you can park in our garage Grand Central in one of our 200 parking spaces and with as many as 42 parking spaces that you can charge your car on. All you need to do to charge your car is download the CaCharge app and start an account.
The car park is within walking distance of both the commuter train station and the metro in Sundbyberg, which goes all the way into the city of Stockholm. Which makes it easy for you who do not want to drive a car in Stockholm.
It is also for you who are going to visit one of the nearby offices or want to treat yourself to a lunch at one of the restaurants. Here you will find everything from pizzerias, hamburger restaurants, Italian, Indian and everything in between. So the choices on what you want to eat are many. There is something for everyone here.
Challenge your friends to bowling at Sundbybergs bowling alley or take a walk up to Tornparken, have a little picnic and play with the children in the playground.