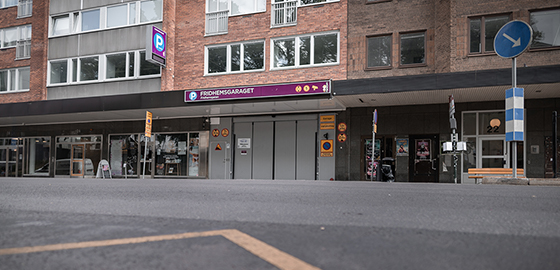 Fridhemsgaraget
Fridhemsgatan 24, 112 40 Stockholm, Sweden
Opening hours:

05:00-19:00
Short Term: 70 kr per started hour, 350 kr per day
Long term: Reserved parking space private person: 2.468 kr including VAT per month
Long term: Reserved motorcycle space: 1.020 kr including VAT per month
Long term: Unreserved space, Evening parking 16-09 + weekends: 1.020 kr including VAT per month
Long term: Reserved parking spacecompany: 2.517 kr excl. VAT per month
---
Service
2m
150 parking spaces
0 charging stations
Car wash
---
Payment system
---
Payment information:
Drive down to the garage and buy a ticket at the ticket machine.
You go up the same road you drove into the garage.
Remember that you need a code to get in and pick up your car again, the code is on your ticket. Do not forget to tear off the code and take it with you when you have parked.
General information:
On Kungsholmen in Stockholm in the middle of Fridhemsplan you will find our garage Fridhemsgaraget. Park centrally and conveniently.
Walk out of our inner city garage and get a large selection of both restaurants and shops.
Park within walking distance to Västermalmsgallerian and Sankt Göran Hospital.
Enjoy what Kungsholmen has to offer. Walk down to Kungsholmsstrand or Norr mälarstrand and enjoy the pleasant walks along the water. If you walk the farthest north of Mälarstrand, you will come to Stockholmsstadshus.
Have a picnic in Rålambshovsparken only five minutes from the garage and enjoy the nice view and why not take the opportunity to play some boules or kayak in Riddarfjärden if the weather allows.
In Rålambshovsparken you also have the opportunity to see the amphitheater or visit Rålis Skatepark under "Lilla Västerbron".
If you want to explore more parks on Kungsholmen, you can also walk past Kronobergsparken. The park is one of Stockholm's six mountain parks.
Treat yourself to a little luxury by having your car washed in the garage at Clean Cars.