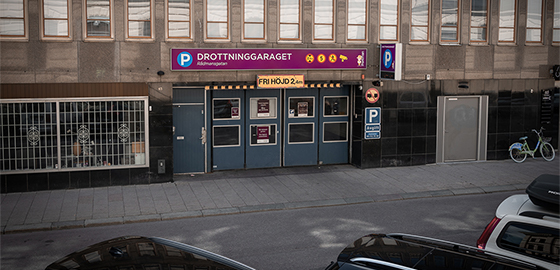 Drottninggaraget
Rådmansgatan 63, 113 59 Stockholm, Sweden
Opening hours:

05:00-21:00
Short Term: 55 kr per strated half hour. 550 kr per day
Long term: Reserved parking space: 4.980 kr including VAT per month
Long term: Unreserved parking space weekdays 16.00-09.00 + weekend: 633 kr including VAT per month
Long term: Enclosed parking space: 1.488 kr including VAT per month
Long term: Motorcycle space: 972 kr including VAT per month
Long term: parking space with charging option: 5.490 kr including VAT per month. Variable cost for electricity will be added.
---
Service
2m
300 parking spaces
20 charging stations for rent
---
Payment system
---
Payment information:
Use your credit card at the barrier or take a ticket at the barrier.
If you drove in with your ticket, you use the same ticket when you drive out and then you pay with a debit card at the barrier.
If you have run in with your credit card, just use the same debit card at the barrier when you leave.
Should there be a problem, there is always a help button. Both when you are going to enter the garage, and when you are going to drive in. At doors, the gate and the barriers. You can always use this button, we are open 24 hours a day.
General information:
On the edge of Vasastan right next to Norrmalm, we can offer parking in one of our inner city garages.
A short distance from the largest shopping street in Stockholm, Drottninggatan, you can park in Drottninggaraget.
The garage is located at the top of the shopping street with walking distance to a large selection of restaurants, shops and sights in Stockholm.
Drottninggatan leads all the way to the Old Town and discover the inner city's largest outdoor market for fruit, vegetables and flowers on Hötorget. Take the opportunity to make a stop in the large shopping center Åhléns City right by Sergelstorg. If you want to take a break from all the shops and restaurants, you can bring your coffee or lunch to Tegnérlunden or Observatorielunden and enjoy..