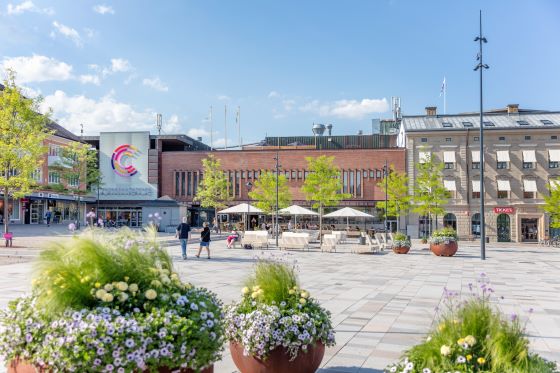 Commerce köpcentrum i Skövde
Hertig Johans torg 4, Skövde, Sweden
Opening hours:

00-24
Short Term: 15 kr/started hour the first two hours, after that 20 kr/started hour. Minimum price 15 kr. Maximum price 80 kr/day
Long term: Private, unreserved parking space 24 hours a day: 800 kr incl. VAT
Long term: Private persons, unreserved parking space evening+weekends: 688 kr incl. VAT
Long term: Company unreserved parking space 24 hours a day: 800 kr excl. VAT
---
Service
---
Payment system
---
Payment Information
Commerce shopping center in Skövde has Sweden's most modern parking system Autopay.
At each entrance and exit, cameras are set up that read your license plate and thus keep track of your parking time.
You can choose to pay in one of the payment machines either in the shopping center or in the parking garage. You can also create an account on autopay.io where you insert your payment card and the amount is automatically deducted at all Parkman facilities with the Autopay system.
Do you forget to pay for your parking? Take it easy. You have 48 hours to pay for your parking from home. Go to Autopay.io and pay.
If you choose not to pay via any of these options, an invoice will be sent to the owner of the vehicle with a fee for the invoice.
General information:
Shop, hang out, grab something to eat or play Laserdome in the Commerce shopping center in Skövde.
Enjoy your visit to the center of Skövde and take the time you need, don't feel the stress that the parking time is about to expire or worry about being met with a control fee after your visit. You pay afterwards for the time you have actually been parked.